Skip Navigation
Website Accessibility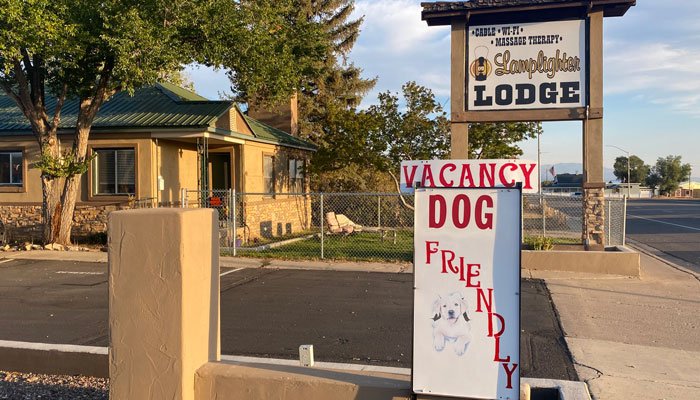 Lamplighter Lodge - Motel in Panguitch, UT
Under New Ownership - Now Dog-Friendly!


Hello and welcome to The Lamplighter Lodge website! We are located in historic Panguitch, Utah which is on the Scenic U.S. Highway 89, one of the oldest highways in the Western United States which goes North and South and drives through many popular National Parks such as Bryce Canyon, Zion National Park, Capitol Reef, Arches and Grand Canyon, just to name a few. Panguitch Utah is centrally located to numerous National Parks, State Parks, and National Monuments which makes The Lamplighter Lodge a perfect destination stop for a home base to enjoy day trips to many beautiful places around us.

The Lamplighter Lodge is officially under new ownership! We are currently in the process of updating and remodeling so please be patient with us, we are still learning and love to hear what we are doing well and what we could improve. ​The Lamplighter Lodge is a twelve (12) room, dog-friendly motel with a great dog area for our 4 legged friends. Our charge is $10.00 per dog, per night. We offer rooms with one (1), two (2), or even three (3) queen size beds (also known as our family suites). We also offer rooms with one (1) king-size bed. Our rooms are medium to large in size. All rooms have a microwave, refrigerator, AC/Heat, TV with DirecTV programming, in-room coffee, tub/shower, toilet, and sink. We DO NOT allow the use of hot plates or smoking/vaping of any kind inside the rooms. At The Lamplighter Lodge, we offer free WIFI Internet access to keep our guests connected to the world while vacationing away from home to share all of their exciting travel with friends and family. We are conveniently located near an All-American BBQ Diner/Restaurant, Gas Station/Convenience Store, Family Dollar and walking distance to several Diners. We are also 2 blocks from the Triple C arena, the Garfield County fairgrounds and our city park. We can accommodate trucks and motor homes with free parking, based on our availability. Our Front Desk office hours are from 8:00 am to 10:00 pm. If you need to check-in outside our office hours, please call to make arrangements to get your room key.



Our Rooms
Amenities include:
Free WIFI, Free Parking, 1, 2, and 3 Queen size beds, Single King beds, Refrigerators, Microwaves, In-Room Coffee, Toilet, Tub/Shower, Washbasin, Towels, Shampoo and Soap, Hair Dryers upon request.
Area Attractions
Our motel makes the perfect central location for all your southern Utah adventures. Utah is home to 5 national parks, and a host of outdoor activities which include hiking, ATV riding, horseback riding, mountain and road biking just to scratch the surface. And all of it is done in one of the most beautiful, magnificent and nearly alien landscapes on earth.